[See Suzhou] China's First 3D Printed of Waterway Revetments
The Sushen Outer Harbor Line connecting the Beijing-Hangzhou Grand Canal and the Huangpu River is a national high-grade waterway, and the waterway is currently being upgraded. The construction of a secondary bank revetment located in the Wujiang Tuncun section is not poured with traditional reinforced concrete, but is 3D printed with "solid waste" and assembled into a beautiful "ecological bank". This is the first 3D printed inland waterway secondary revetment in China.
Today the reporter saw at the construction site that the main body of the secondary bank revetment with a length of 432 meters adopts a buttress-type cavity structure, shaped like a city wall. This structure can not only resist the invasion of inland river waves, but also achieve personalized landscape requirements, achieve landscape ecological effects that cannot be obtained by conventional processes, and integrate the project into the environment along the line, closer to nature.
According to reports, the 3D printed secondary bank revetment at the Wujiang Tuncun section uses urban construction solid waste and steel power plant solid waste. After high temperature, crushing, grinding and other processes, printing ink is added, and physical solidification is formed naturally with zero energy consumption. Simultaneously realize the innovation and transformation and upgrading of traditional industries, allow solid waste products to be manufactured and leave the factory, and solve the problem of random waste disposal and utilization.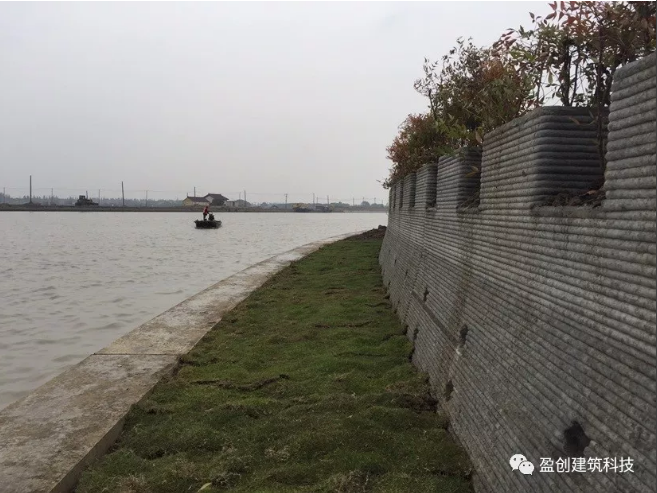 It is worth popularizing that a large amount of raw materials are mixed with construction waste materials, so that construction waste materials can be recycled and the environmental protection concept of additive manufacturing can be realized. It is environmentally friendly and harmless to pass the tests of professional organizations, with no harm to human body and no pollution to the environment. For inland waterways, it effectively protects water resources and the water environment.
At present, the Suzhou Waterway Department is summarizing this 3D printed secondary revetment experience and forming a construction standard. Next, it is ready to be promoted and used in waterway improvement projects such as the Changhu Shen Line and Sujia Line.