3D printing architecture is a rapid prototyping new manufacturing technology that began to emerge in the 1980s. In fact, it is a technology that uses building materials to gradually accumulate to build physical buildings. In the construction industry, 3D printing architecture is a kind of building that meets the construction standards and has practical functions, which is automatically and intelligently printed by machinery and equipment according to the pre-designed architectural drawing program with special printing ink. 3D printing architectural technology has brought about a revolution in the entire building system. It integrates design, construction, equipment, new materials, and application integration into a new system, which has the characteristics of digitalization, intelligence, and mechanical automation.
In essence, 3D printing architecture is a technology that comprehensively utilizes a specific combination of engineering technologies such as management, materials, computers, and machinery to complete engineering construction. and methods are difficult to satisfy and implement. Compared with the traditional construction industry, 3D printing technology can adopt industrialized production methods, which greatly reduces labor input, reduces construction costs, improves efficiency, shortens the production and construction cycle, and prevents large areas of the environment during the construction process. destroy.
In recent years, with the continuous deepening of 3D printing technology research, 3D printing building application demonstration projects have gradually increased. In-situ two-story building printing projects have begun to appear at home and abroad, and prefabricated 3D printing buildings are also increasing. Two classical Chinese-style courtyards, a 6-story residential building, and a 1,100-square-meter hardcover villa were built using 3D printing architectural technology. The application demonstration of these projects has promoted the development and improvement of architectural 3D printing technology. The construction advantages of 3D printing, such as no model, automation, rapidity and flexibility, have rapidly emerged in the fields of architecture, bridges, infrastructure, water conservancy engineering, etc., and have shown great potential for development. "Let architectural 3D printing technology go out of the laboratory and realize industrialization", Yingchuang has been working hard!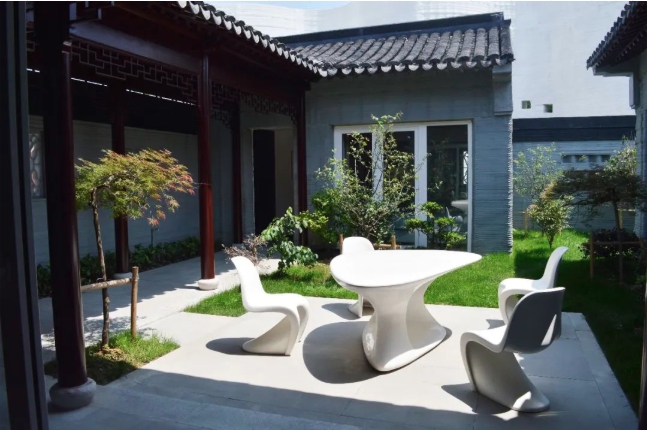 03
On October 31, 2022, Fuliang County Xincheng Industrial Park Industrial Investment Co., Ltd. issued a public bidding for the "Competitive Consultation on the 3D Printing Product Procurement Project of Fuliang County Automobile Supporting Industrial Park in Jingdezhen City". In December, Yingchuang successfully won the bid and dispatched a team to the project site on the 19th. We decided to carry out on-site construction!
"Nearest materials, on-site construction" is the core concept of Yingchuang 3D printing mobile dream factory. This 3D printing construction project is also an important marketization attempt of Yingchuang 3D printing mobile dream factory in its initial stage. In the past, 3D printing equipment was fixed equipment, which could only be printed in the factory and then transported to the site for hoisting. The transportation cost was high, which seriously hindered the promotion and application of 3D printing construction technology. To this end, Yingchuang 3D printing construction equipment uses flatbed trucks as the transport carrier, introduces a visualized full-coverage Internet of Things management platform, and combines them into a digital and intelligent 3D printing mobile factory. Mobile equipment is a mobile factory. Locate the location of solid waste and the location of the project, and start construction on site to effectively avoid problems such as carbon emissions and cost increases caused by solid waste transportation and storage. At the same time, it no longer needs to build a dedicated factory, nor does it have to bear the high transportation costs of printing buildings and components.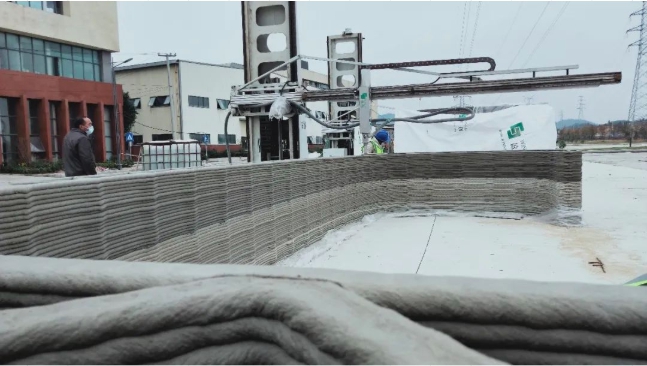 On-site printing
On December 19, Yingchuang loaded YC1804C (vehicle mobile cantilever printer) and 3D printing "ink" to Fuliang County, Jiangxi Province, assembled and debugged the equipment on site and started printing! The content to be printed this time includes but is not limited to a 400㎡ restaurant, a 200㎡ living supermarket, express delivery room, toilets, etc.
Yingchuang 3D printing buildings can be modern urban houses, or new farm houses that fit the countryside, infrastructure with individual expression, or urban landscapes with diverse aesthetics, and can be closely related to the needs of human survival. Relevant roads and bridges can also be bionic landscapes tailored for natural ecology... Yingchuang hopes to realize the infinite possibilities of 3D printing buildings, satisfy people's whimsical ideas about buildings, and demonstrate unique artistic charm and humanistic feelings , and this actual application is not only another application of Yingchuang, but also another practice of 3D printing architecture! Let us wait and see!